Nebraska-led project aims to build interest in health careers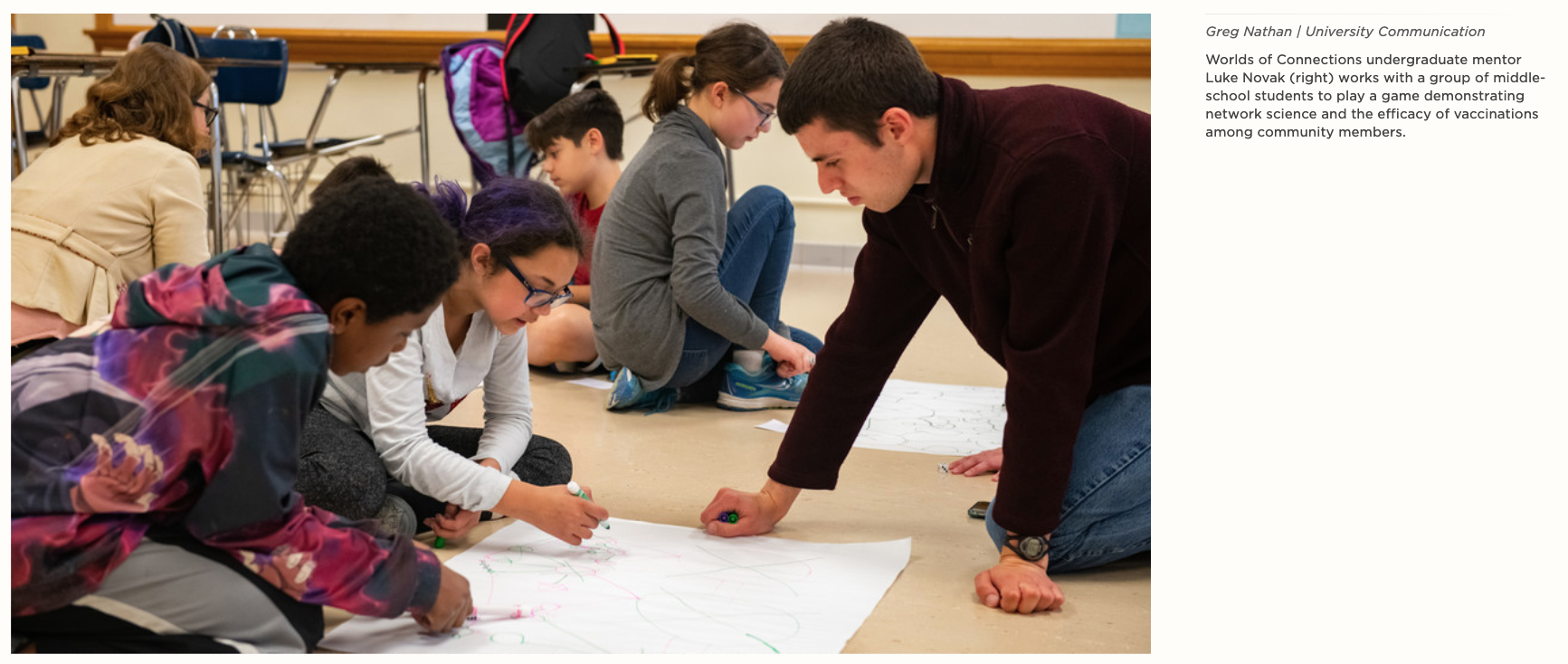 A new research and outreach program is engaging middle-school youth with science in novel ways, with the aim of increasing curiosity and interest in health careers.
The University of Nebraska–Lincoln's Department of Sociology is leading a five-year, $1.2 million Science Education Partnership Award from the National Institutes of Health Institute of General Medical Sciences, to fund the new Worlds of Connections project.
The big goal of Worlds of Connections is to increase public understanding of network science approaches to health research and to increase diversity in health careers. One key objective is developing and implementing informal science activities in after-school clubs.
If successful, the new activities will generate ongoing interest in science, math, engineering and technology careers — especially among underserved youth — while introducing the concept of network science, an emerging field of research in many different areas, including social, biological and behavioral sciences.
Julia McQuillan, professor and chair of the Department of Sociology and principal investigator on the project, said the long-term goals are to address a workforce shortage in health care that is growing each year, and to diversify the bio-behavioral and biomedical workforce.
"Our big idea is that we might be under-recruiting youth by not exposing them to network science," McQuillan said. "We want to expand the pool of youth who consider health careers by getting them excited about the possibilities, especially by having a college undergraduate mentor."
Network science — or finding the unique ways human connections impact health and behavior — is a relatively young concept in research, and is not a part of the science curriculum in K-12 education, but it has been dynamic for health researchers, including Nebraska's Kirk Dombrowski and Bilal Khan, WOC co-investigators and professors of sociology. Dombrowski and Khan are using network science tools to answer questions such as how viruses spread through communities, where people in small rural towns get advice for problems in their relationships, and how opioid addiction spreads in rural areas.
The inter-institutional and interdisciplinary Worlds of Connections team, which includes faculty from mathematics, art, education and more, believe the multiple applications of network analysis will attract a new, more diverse generation of scientists.
Worlds of Connections is working with NE STEM 4U, an after-school program developed by WOC co-investigator Christine Cutucache at the University of Nebraska at Omaha, to develop the Worlds of Connections clubs.
Following the UNO model, activities are run by undergraduate mentors under the advisement of McQuillan and project coordinator Grace Stallworth. The WOC model is currently being piloted at a Lincoln Public Schools middle-school Community Learning Center, and the club and activities will roll out to more schools each year. Patricia Wonch Hill, the co-investigator who is leading the research on the program, will collaborate with Amy Spiegel to evaluate and conduct research on how well the activities are working.
"Then, in years three, four and five, we're going to take what we learned from the after-school programs to create virtual worlds in partnership with the new Johnny Carson Center for Emerging Media Arts that we can distribute free over the web, so all youth can engage," McQuillan said.
Corresponding with the rollout of new clubs, McQuillan and other investigators on the team will conduct research on how to best keep middle-schoolers and high school students interested in STEM and health careers.
"We'll be following these youth to see if being involved in an after-school program focused on network science and taught by college students will increase interest in emerging health careers," McQuillan said. "We're also looking specifically at whether or not the introduction to network science attracts more youth to careers in health science than biology-focused activities alone."
This NIH SEPA grant is the third such award at Nebraska, following two successful grant projects led by Judy Diamond, curator and professor of informal science education at the University of Nebraska State Museum, who is serving as the science connector coordinator for Worlds of Connections.