NE STEM 4U–Lincoln is an organization through the University of Nebraska–Omaha and the University of Nebraska–Lincoln (UNL) which provides quality, educational after-school activities focused on science, technology, engineering, and mathematics (STEM) led by UNL undergraduate mentors for K-12 students in Lincoln Public Schools. Through these efforts, NE STEM 4U–Lincoln aims to increase interest in and understanding of STEM topics, including network science, for socio-economically
disadvantaged students and to provide opportunities for these students to pursue educations and careers in STEM fields.
INSIGHT Into Diversity magazine recognized NE STEM 4U with its 2022 Inspiring Programs in STEM award.
Mentor Benefits Include:
Professional development through exposure to and training in interpersonal skills, conflict resolution, group management, community engagement, etc.

Relationship-building opportunities with local youth and peers

On-campus and community networking opportunities

Access to on-campus facilities and study space
Session Dates
Spring 2023
January 25 – May 3
NE STEM 4U follows the Lincoln Public Schools Academic Calendar. The schools use 16-week sessions to break down the schedule of after-school providing. With each session, we introduce new activities and may work with new participants and schools.
Partnerships
School partnerships vary by academic year.
Current Partnerships
Park Middle School (2020–)
Past Partnerships
Dawes Middle School (2020–2021)
Culler Middle School (2018–19)
Current Undergraduate Mentors
Elizabeth Jardee
Brecken Obermueller
Karen Rodriguez
Adam Wong
Mentors Emeriti

2021–2022
Destiny Spurlock
Kayla Gaertig
2019–2020
Chika Akwani
Amjad Awlad Thani
Aditi Jain
Amy Klar
Alvaro Moreno Lozano
2018–2019
Nestor Hernandez
Grecia Macias
Shayla McNear
Luke Novak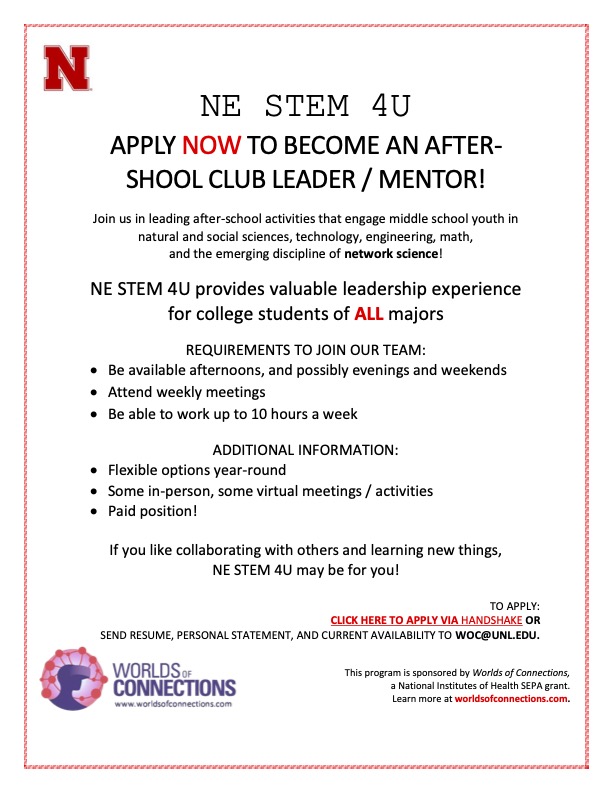 How to Apply
Join World of Connections, a UNL program, in teaching activities that engage middle school youth in natural science, social science, technology, engineering, network science, and math and gain valuable leadership and teaching experience. If you like collaborating with others and learning new things, this may be for you!
The undergraduate mentor position is open to UNL students of all majors. Those interested in becoming an NE STEM 4U–Lincoln mentor should send a resume, personal statement, and current availability to woc@unl.edu and/or submit an application via Handshake.