On Monday, April 18, 23 posters by artists from elementary school age to retirees went on display in the Nebraska State Capitol building. Supported by the Worlds of Connections SEPA supplement to reduce COVID-19 vaccine hesitancy, these posters were commissioned or selected from submissions in response to a request for art promoting vaccination. (Click here to read more about the Worlds of Connections SEPA supplement on our website.)
From April 18th through the 29th, a total of 46 posters promoting COVID-19 vaccination and or/vaccine acceptance will be available to view in the Capitol building's first floor rotunda. The 23 posters currently on display will remain until April 24th, and the rest of the posters will be viewable April 25th–29th. After the exhibit, all posters will be available for download at worldsofconnections.com. They will also appear in a forthcoming book with foreword by molecular virologist and Worlds of Connections SEPA supplement advisor St. Patrick Reid (expected publication in 2023).
To plan your visit to the display, see the Capitol building website for building access and visitor hours.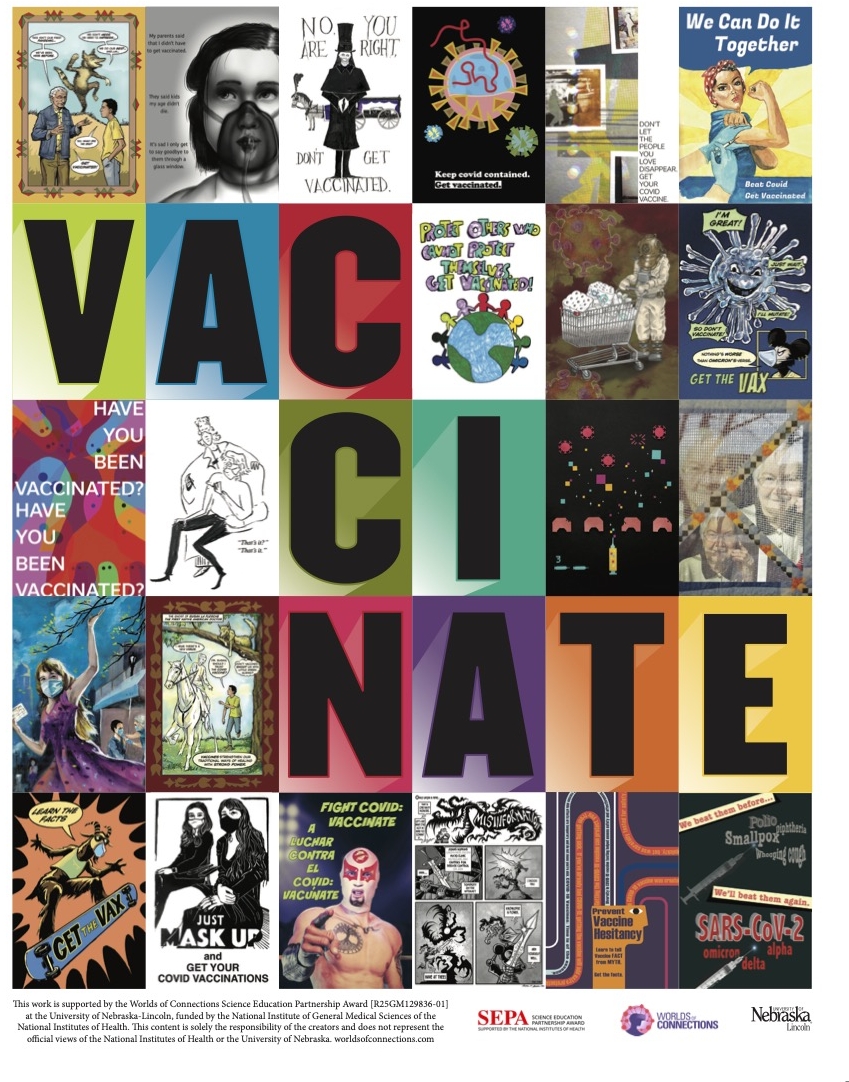 'Connect' with Us on Social Media
Follow Worlds of Connections on Twitter @WoCsepa and Instagram @WorldsOfConnections to see daily featured posters!
Worlds of Connections in the News
Click here to view news coverage of the poster display from 1011 News. To read more about the exhibit in Nebraska Today, click here.
---
This exhibit is supported by the Worlds of Connections SEPA [R25GM129836-01] at the University of Nebraska-Lincoln, funded by the National Institute of General Medical Sciences of the National Institutes of Health. These works are solely the responsibility of the creators and do not necessarily represent the official views of the National Institutes of Health or the University of Nebraska.