Worlds of Connections Newsletter
Volume IV, Issue 2
16 September 2022
---
Letter from Dr. McQuillan
Hello Worlds of Connections community,
We are excited to update you on the second half of the fourth year of the Worlds of Connections (WoC) Science Education Partnership Award (SEPA). This newsletter provides an update about project accomplishments from January–June 2022 plus upcoming happenings and important dates. We hope you enjoy reading about NE STEM 4U and network science activity development, collaborative research publications, team presentations, and outreach efforts. You will also read about the Vaccinate SEPA supplement and the 46 posters promoting COVID-19 vaccination/vaccine acceptance, which are available to view and download from our website at no cost. See the end of the newsletter for upcoming happenings and dates.
We look forward to hearing about your updates, insights, and ideas for our shared goals.
Thank you for your continued support.
Best regards,
Julia McQuillan
Worlds of Connections Primary Investigator
Professor of Sociology, University of Nebraska–Lincoln
---
Project Accomplishments
NE STEM 4U & Network Science Activity Development
Our team continues to develop network science activities for middle-school-aged youth in both virtual and in-person informal settings. During the Spring 2022 semester, six undergraduate student NE STEM 4U mentors (club leaders) and one high-school student assistant facilitated all four published network science activities at one after-school club in Lincoln and provided mentor feedback on the activities. The activities—Ecology, Genealogy, Fish Supply, and Playdough Liaisons— were used in NE STEM 4U after-school clubs in Omaha as well. In addition, we piloted five network science activities that we are evaluating and refining, including one designed by undergraduate mentor Elizabeth Jardee in which youth use graph theory to map social connections among storybook characters. Our goal is to publish at least four more network science informal activity guides, which will be available online for free download, by the end of our fifth year.
Collaborative Research
In January, the International Journal of STEM Education published the article "Replicating or franchising a STEM afterschool program model: core elements of programmatic integrity" by NE STEM 4U Program Director Nikolaus Stevenson, Amie S Sommers, Neal Grandgenett, William Tapprich, WoC PI Dr. McQuillan, External Evaluator Michelle Phillips, Rachael Jensen, and Co–I Christine Cutucache. This article investigates the potential for replicating or "franchising" the successful out-of-school program NE STEM 4U.
WoC PI Dr. McQuillan, Co-I Trish Wonch Hill, and Project Coordinator Meghan Leadabrand contributed an article on community-engaged research (CEnR) to the winter issue of the American Sociological Association's quarterly magazine Footnotes. Our brief article provides examples of CEnR at UNL, including SEPA work. We focused on how doing CEnR allows sociologists and community members to create authentic research partnerships to solve social problems.
NIH SciEd Conference
NIH SciEd, the annual meeting for NIH SEPA teams, took place at the beginning of June in Washington, DC. Several WoC team members (PI Dr. McQuillan, Co-I Dr. Hill, Project Coordinator Meghan Leadabrand, External Evaluator Michelle Phillips) and collaborators from the University of Nebraska–Omaha (NE STEM 4U Program Director Nikolaus Stevenson and faculty member Paul Denton) attended the four-day conference. The project team presented a poster (PDF or see below) showcasing the WoC SEPA as a system of many components, including developing and providing informal network science activities for youth, nurturing numerous research partnerships, providing opportunities for teacher professional development, and developing an emerging media arts deliverable asset. With collaborators from Purdue University, Dr. Phillips presented the Research & Evaluation breakout session "Conceptualizing and Evaluating Partnerships: Invitation to Discuss and Revise Tools (Frameworks and Instruments)," and Nikolaus Stevenson facilitated the interactive breakout session "Gamification to Engage Youth with Ecological Networks and Health Implications."
Outreach
We were grateful to reaffirm our collaboration with the Mid-America Transportation Center by participating in the 2022 Sovereign Native Youth Leadership Academy, "Native Youth for the Seventh Generation," from June 26–30. Since 2018, WoC has partnered with the Center to provide financial support for the summer academy, and we were excited to be more actively involved this year. Throughout the week, WoC Co-I Dr. Hill and three undergraduate NE STEM 4U mentors facilitated informal network science activities and enjoyed opportunities to connect with academy participants.
Vaccinate Poster Project
We had the opportunity to invite artists to join the Vaccinate project as part of our WoC administrative supplement, led by WoC team member Judy Diamond with tremendous dedicated efforts by Project Coordinator Leadabrand. Throughout Fall 2021, our team publicly sought art submissions that promote COVID-19 vaccination and/or vaccine acceptance. Six advisors from the fields of epidemiology, public health, veterinary medicine, sociology, graphic art, and comic art selected 33 out of 66 submitted pieces. We commissioned 10 additional works from comic artist Bob Hall, lead artist of the C'RONA Pandemic Comics, and two from Ho-Chunk multidisciplinary artist Henry Payer ("Tribal C'RONA Comix"). The submissions came from around the U.S., plus one from Mexico, and the contributors ranged in age from elementary school to seniors in retirement. In April 2022, the poster artwork was on public display at the Nebraska State Capitol. A UNL press release encouraged visitors and local news station 10/11 NOW interviewed Dr. McQuillan and Bob Hall for a segment on their nightly news show. All 45 individual posters, plus a collage poster featuring several artists' designs, are available for free download on the WoC website.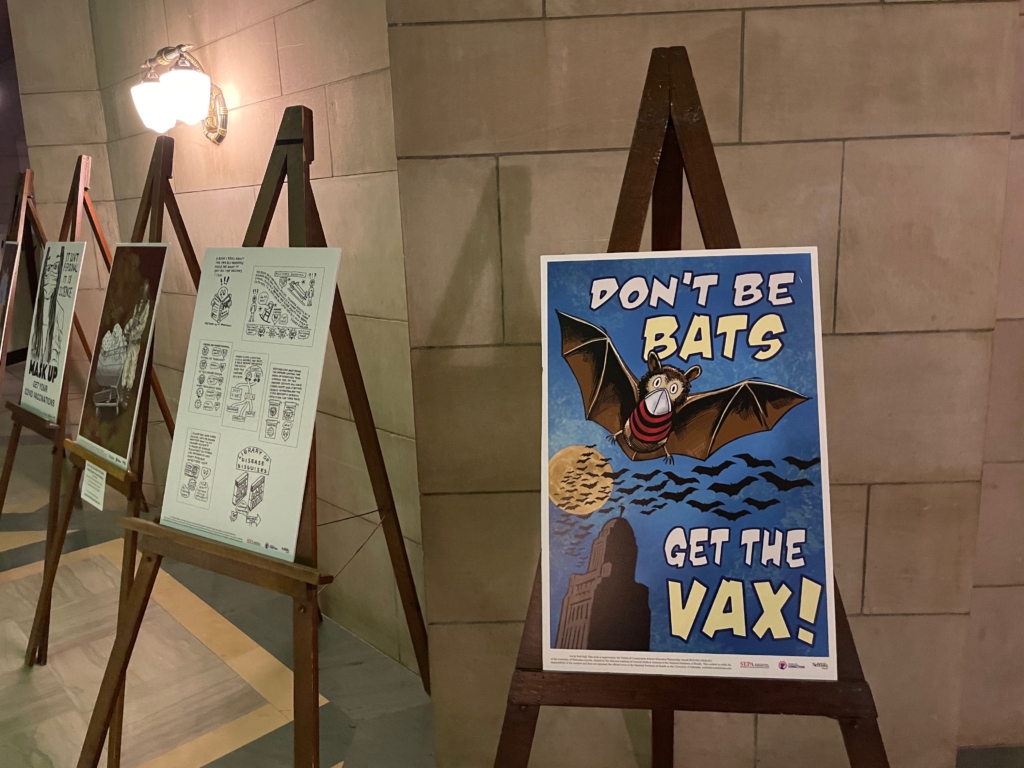 ---
Upcoming Happenings
Inspiring Programs in STEM Award
In September 2022, our partner program, the University of Nebraska–Omaha's NE STEM 4U, is being featured in INSIGHT Into Diversity magazine for receiving the 2022 Inspiring Programs in STEM Award. INSIGHT Into Diversity magazine, the largest and oldest diversity and inclusion publication in higher education, selected award winners based on efforts to inspire and encourage young people to consider careers in STEM through mentoring, teaching, research, and successful programs and initiatives. Click here to read more about NE STEM 4U's recognition.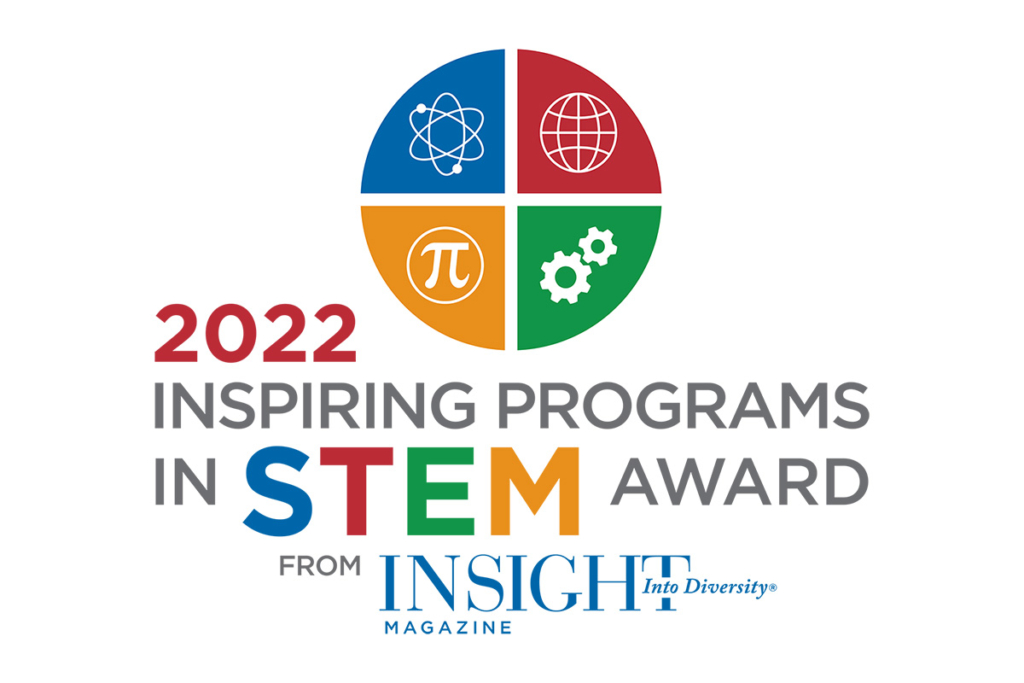 Deliverable Development
We continue to work on informal network science activities for youth, an emerging media arts deliverable asset, and collaborative research and evaluation. In Fall 2022, we will have one in-person NE STEM 4U club in Lincoln (Park Middle School) and numerous clubs in Omaha. We will also develop a prototype of the emerging media arts asset, a virtual-reality game called MuMu Land, in Fall 2022.
---
Upcoming Dates
September 2022 | Vaccinate: Posters from the COVID-19 Pandemic Book Release
A book containing all COVID-19 vaccine posters, entitled Vaccinate: Posters from the COVID-19 Pandemic, is forthcoming in September 2022 from the University of Nebraska Press. The collection features a foreword by St Patrick Reid, PhD.
The 2022 Symposium on Substance Use Research, co-hosted by our partner, the Rural Drug Addiction Research Center of Biomedical Research Excellence (COBRE), will focus on leveraging research, knowledge, and insight on substance use from across the country. The virtual format will include expert keynotes, panels, and research presentations on a wide variety of substance use topics. There is no cost to attend, and it is open to the public. Register here.
---
Please do not hesitate to email us at woc@unl.edu with updates, suggestions, questions or comments. Thank you all again for your involvement and support!